Two fundamental concepts in education are scaffolding (developed by Jerome Bruner) and the Zone of Proximal Development (developed by Leo Vygotsky). The Zone of Proximal Development is, as the name suggests, an intangible zone where learners can gain new knowledge on their own by tapping into previous knowledge. Scaffolding is a teaching technique that allows all learners, regardless of previous knowledge, to be able to enter into the Zone of Proximal Development. As I work with IT staff and managers to train them on the use of our software tool, TransitionManager, it's fun to see their excitement as they navigate through task-driven lab exercises and hang out in the Zone of Proximal Development.
Through lecture and discussion, trainees see TransitionManager's features which primes them for later lab exercises (while allowing me to learn about how the particular group will ultimately implement TransitionManager in their projects). Then, as trainees begin their lab exercises, after having observed end-to-end functionality from various views*, they are ready to engage in exercises on their own. The ability for new users to quickly begin learning on their own is rooted within TransitionManager's functionality.
As we all know, the best way to learn to ride a bike is to get on it and try. So, of course, playing in TransitionManager is the best way to learn it. But remember, TransitionManager is built to orchestrate complex data center and cloud migration projects. This bike has many bells, whistles, and a bunch of carefully placed baseball cards attached to each and every spoke. It's been built and refined by IT experts with hundreds of migrations under their belts. It's been engineered to handle a windy road, and offer the rider both control and a smooth ride. In short, this bike is totally decked out. Despite its powerful ability to handle complexity, TransitionManager's intuitiveness allows trainees to quickly jump on and ride.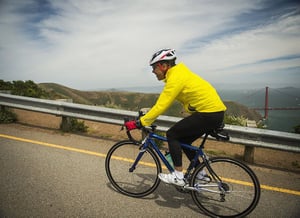 The best part of TransitionManager is it allows trainees to find their Zone of Proximal Development on their own, giving them the ability to assist themselves in multiple ways. This allows me to focus in on individual needs without hindering the progress of others, making training more efficient and effective. Within TransitionManager, I can track an individual trainees' progress and troubleshoot with them in their unique project or they can help themselves by following the specific task sequencing and accessing embedded "help" links. This same functionality allows IT staff, using the tool in the "real world", to sequence runbook tasks in their migration workflow and deliver detailed guidance via linked documentation. The ability for me as a trainer – or for any IT project manager -- to efficiently organize and track progress is purposefully built into TransitionManager's organizational scheme and features -- and has been proven invaluable on a multitude of successful data center and cloud migration projects over the past ten years.
*(trainees can simply watch instructor demonstrations or observe the results of instructors actions from within the training instance using their unique login credentials)